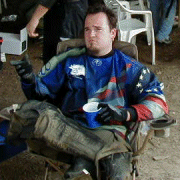 Brian Welch - Captain
Big Chief Munkey
aka
"Angst"
aka
"muad'dib"
"i am tha Kwisatz Haderach. the One who can be many places at once."
Munkey of Unstoppable Attitude. Able to project emotion confidence into physical form. Commands team on the field. Likes things "hyarge". Consumes multiple pounds of beef at a sitting. Known to occasionally break out in obnoxious air-guitar solos with Nekkid Munkey. When not being angry, Big Chief Munkey sometimes reveals a storehouse of filth bested only by the PatriarchOfNasty himself. Digs Beastie Boys. Difficult to coax off of his VTX and into a car - often requires beef as a bribe.


.
Ian Scott - Captain
OCD Munkey

"Man....that didn't work out the way I thought it would."

Organized yet unable to cope when things don't go as planned, he works tirelessly on projects nobody asked to be completed. Will cry. Coordinates practices & tournaments. Granted powers of hindsight which reduce physical vision but enhance trigger finger. Inadvertently shoots his own team members while providing "cover". Kicks bunkers when agitated. Ate the 1lb burger at Fuddruckers but failed to get his picture taken. Talk radio junkie. Went two years without having an emotional meltdown on the field.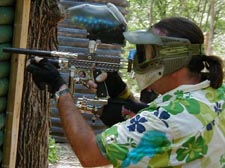 Dave "Truman" Hill
"Man, I'd be a lort funnier if I could tpye."
Old-school veteran player recruited by Munkies who grew tired of playing against him. Famous on IPR, PBN & PPIG. Retired USMC!
Plays cleaner than >insert catchy line here<.
More honorable than Mr. Miagi, a true gent & overall swell guy.
Ha-ha......we got him!!!!